The 3 C's of Farm to School
Important notes about
Farm to School
The 3 C's:
Community: Engage the community.

Cafeteria: Use this area to promote local foods and farms.

Classroom: Implement a farm to school curriculum and learning experience.
Farm to School...
brings healthy, local fruits and vegetables to the cafeteria plates of K-12 students and is one of the many ways producers can connect with their community. Over 42,000 schools across the country participate in Farm to School programming -- 907 of those schools are located right in Kentucky. Farms or producers interested in selling to schools are encouraged to become Kentucky Proud because schools can receive up to 15% reimbursement on KY Proud products -- this helps schools cover the potential extra costs of purchasing local food. Find the application here. As Farm to School programming has increased and become more structured, more resources for farmers are available. It is important that producers are aware of the specifications schools are looking for. Click the links below for specification sheets:
These specification worksheets, along with the resources and contacts below are here to help producers find their way in the farm to school market channel.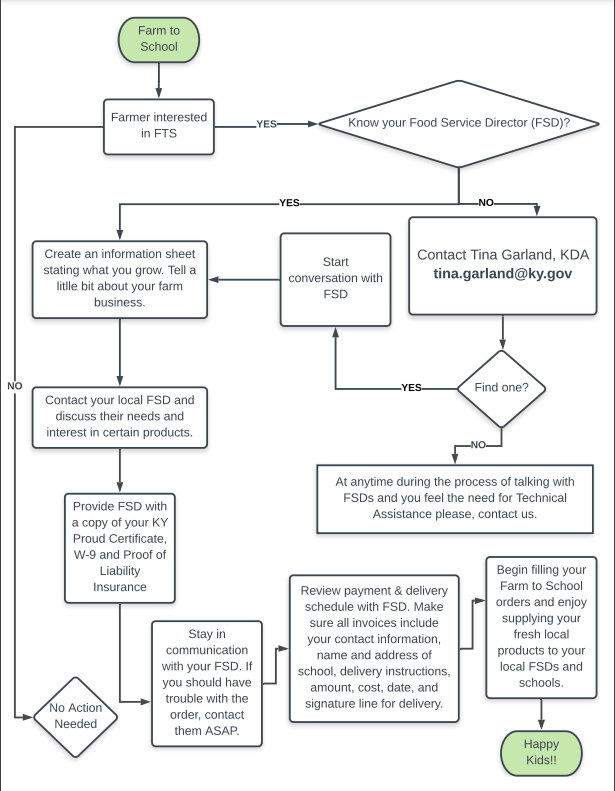 MarketReady's
Best Practices
for success
Create a relationship with your Food Service Director (FSD). If you don't know your FSD -- contact Tina Garland at the Kentucky Department of Agriculture to get the conversation started! 

Packaging requirements for schools may be different than what you are used to. Be sure to understand the packaging requirements for the products you wish to market to schools. For reference, the specification worksheets above have the preferred pack size/weight for each item. 

Put together a list of the fruits/vegetables you have available for schools. Be sure to know or estimate the costs of producing the product(s) you intend to offer.

Tell a little bit of your farm's story. Labeling can be a tool used to do this and to build your farm's identity. 

Come to the Food Service Director prepared! Don't forget your KY Proud Certificate, W-9, Proof of Insurance, specification sheets, etc.