Welcome to the MarketReady Producer Training Program. We help growers and producers prepare themselves when selling to restaurants, schools, grocery and retail outlets, wholesale, etc. It is very important for farmers to be prepared to meet the needs of their buyers -- so we are here to help with that. Buyers need their suppliers to manage their own food safety, insurance, product quality, traceability risks, and much more. MarketReady addresses these issues and seeks to educate our fabulous food suppliers about how to succeed in today's markets - in order to keep farming.
Our training is based around best business practices identified by buyers in these markets that are actively seeking to engage local suppliers. MarketReady will help farm vendors selling dairy, fruits, vegetables, meats, value-added products, and more create a successful business strategy.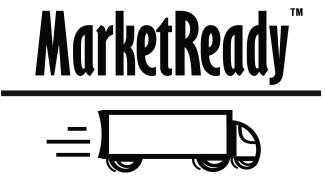 Have you heard about our MarketReady Producer Trainings?
MarketReady is hosting another round of virtual producer trainings this fall! These trainings are for growers and producers interested in selling to restaurants, schools, grocery &/or retail, wholesale, &/or other markets. Check it out today on our upcoming events page!
Please note, these trainings are free to growers and producers so there is no cost to attend outside of your time. These trainings help set you up for success in today's markets -- so don't miss your spot to learn something new!
P.S. -- Don't miss out on the Adv. Topic training that follows our MarketReady Producer Training! These are virtual, deep-dive training sessions that cover these topics: Marketing; Quality Assurance & Food Safety; Risk, Contracts, & Markets; Logistics & Distribution; Packaging & Labeling.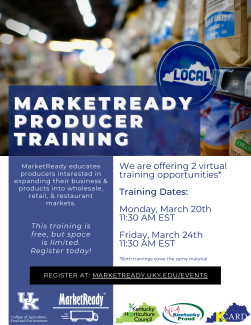 Want to check out what's happening?
Want to know more about us?
Head over to our About Us & FAQ page...
to learn more about our program & what we do
Or check out the people behind the programming here...