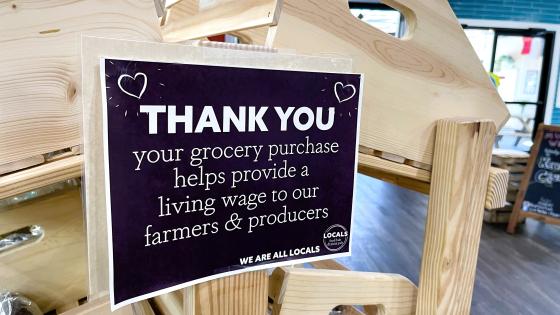 Communication & Relationships
Important notes about
Communication & Relationships
The old rule for success in a retail business was "Location, Location, Location."  When marketing directly from the farm to larger business like grocery stores or restaurants, that rule changes to "Communication, Communication, Communication." The open line of communication between the farm and the buyer is critical for ​growing the relationship — and growing your business. Buyers purchasing products to supply grocery store shelves and food service firms have a stressful, demanding job. Wholesale buyers are very busy people, yet it is important to be able to reach them in a timely manner should there be a problem.
Many of the buyers we interviewed said they preferred to communicate by e-mail when possible. When asked about their expectations regarding communications between farm vendors and themselves, buyers stressed the importance of keeping them informed about your product and its availability.  
Helpful Communication Tools
Communicating can be difficult for some more introverted people. Check out this article about making the pitch to gain helpful tips and insight on communication with grocery, restaurant, wholesale, etc. buyers. 
MarketReady's
Best Practices
for success
Speak with your buyers about the best way(s) to communicate with them. Sometimes what works best for them might not be what works best for you, so be sure to find a happy medium for everyone. 
Make sure you have access to e-mail, social media sites, websites, and other communication channels. Check out some free resources below:

Free email services: Gmail, Yahoo, Outlook

Free social media sites: Facebook, Instagram, Twitter, LinkedIn, Snapchat. Read more about social media platforms here.

Free content builders: Canva, Visme, Adobe Spark. These tools can help you build content for your website and social media pages. 

Time should be invested into an online appearance. If you are unsure where to start, sometimes it is easier to start with a Facebook page over creating a website

Make the effort to connect on a personal level. 

Present a professional and clean appearance online and in-person. Sometimes a person's first impression of you is through your social media -- be sure it is an impression you want to give.